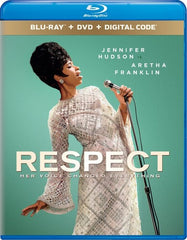 Respect: The Voice That Changed Everything Jennifer Hudson (Blu-ray+DVD+Digital) 2021 Release Date: 11/9/2021
Jennifer Hudson was Aretha Franklin's handpicked choice for a biopic portrayal, and she justified the faith with a knockout effort as the Queen of Soul. 
This compelling film focuses on Aretha's life from the early '60s to the early '70s, as she found her footing as a recording artist despite the successive heavy hands of her legendary minister father (Forest Whitaker), then first husband/manager Ted White (Marlon Wayans). Audra McDonald, Titus Burgess, Marc Maron co-star. 145 min. Widescreen; Soundtrack: English.