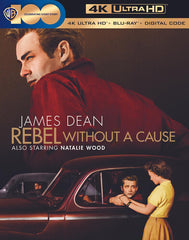 Rebel Without a Cause (4K Ultra HD+Blu-ray+Digital Copy) 2 Pack 2023 Rated: PG13 Release Date: 4/18/2023
In one of moviedom's most influential roles, James Dean is Jim, the new kid in town whose loneliness, frustration and anger mirrored those of postwar teens and reverberates 40 years later. 
Before the feature are three Behind-the-Cameras segments from the Warner Bros. Presents TV series (including a safe-driving interview withdrawn from airing following Dean's September 30, 1955 death) about REBEL WITHOUT A CAUSE. a documentary segment exclusive to this Warner Bros. Classics edition contains recently recovered screen tests and outtakes that show intriguing variations on what ended up in the final film.