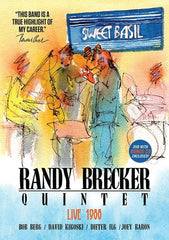 Randy Brecker: Quintet: Live At Sweet Basil 1988 (DVD+CD) 2018 Release Date: 4/6/2018
Recorded in 1988 at Sweet Basil in New York, Randy Brecker is joined by an all star lineup including Bob Berg on tenor sax, David Kikoski on piano & synth, Dieter Ilg on acoustic bass, and Joey Baron on drums. Long out of print on LP and CD, this CD reissue contains a never before released DVD of the show! A fitting tribute to the sadly departed Bob Berg.  AUDIO SAMPLE ONLY THIS IS A LIVE VIDEO CONCERT PERFORMANCE
Randy Brecker Quintet live album recorded in 1988 now back in print. Now with a never before released DVD and bonus CD of a special night in New York City!
Recorded in 1988 at Sweet Basil in New York, Randy Brecker is joined by an all star lineup including Bob Berg on tenor sax, David Kikoski on piano & synth, Dieter Ilg on acoustic bass, and Joey Baron on drums.
Long out of print on LP and CD, this CD reissue contains a never before released DVD of the show!
A fitting tribute to the sadly departed Bob Berg.
Track Listing:
1. Mojoe
2. No Scratch
2. Moontide
4. Ting Chang
5. Incidentally
6. Love For Sale
7. Hurdy Gurdy
8. Three Voices
9. Sleaze Factor
Starring: Randy Brecker

UPC: 760137072492

Genre: Jazz
Theme: Live Concerts

Release Date: 4/6/2018

Product ID: GAZ724DVD

This product is a special order

Original Language: ENG

Original Year: 1988

Run Time: 74 minutes

Distributor/Studio: Gazell Records

Number of Discs: 2

Weight: .22 lb