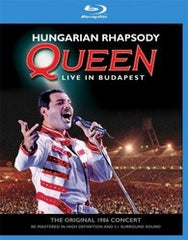 Queen: Hungarian Rhapsody -Live In Budapest 1986 (Blu-ray) 2012 DTS-HD Master Audio 96kHz/24bit
Bohemian has become such a commonplace adjective that people have perhaps grown unaccustomed to associating it with the actual place called Bohemia, which is where one would assume the descriptive term probably originated. 
The nation previously known as Czechoslovokia was home to Bohemia, and while the vagaries of history have now but Slovakia in between the Czech Republic and Hungary, when Freddie Mercury and Queen played Budapest in 1986, Bohemia was in a certain sense "right next door" and perhaps provided an added allure to including this odd venue on Queen's world tour. It's hard to even imagine it now, but the Iron Curtain was still very much vertical and seemingly impenetrable, and a stadium rock performance was not a de rigeur situation even for the biggest bands. 801213342297 
There was obviously a pent up audience for Queen, for once their concert was announced, it sold out in an astoundingly short amount of time, all the more astounding when one considers the fact that this particular concert was played before literally tens of thousands of people. This was the first stadium rock concert by a western act to be performed behind the Iron Curtain, and it was big news in its day. A coterie of British journalists flew to Budapest to cover the proceedings (some of which is captured in some non-concert footage included in this documentary), and because this was such an obviously big deal within Hungary itself, famed Hungarian cinematographer János Zsombolyai was hired to film the concert, and to do so he had to utilize every available film camera in the nation.
Queen had had its ups and downs by the time it arrived in Hungary in the summer of 1986, but there's no denying the band was at one of its high points during this time period, still riding high after its critically lauded Live Aid performance from the previous year. The confidence and outright swagger of the band is apparent throughout this concert. The size of the venue doesn't seem to intimidate them in the slightest, and in fact Freddie Mercury seems to feed off of the audience's energy. Younger audiences may be unimpressed by the concert's relative lack of stage craft (some lighting and dry ice effects are about it), but the visceral impact of the music can't be denied.
The documentary doesn't just concentrate on the concert, although that's of course the bulk of this piece. We do get a little context, however, including some charming scenes of Freddie arriving in Budapest via hydrofoil, kind of like Cleopatra being floated down the Nile to be presented to her adoring public on a barge (something tells me Freddie himself would love that comparison). And there are segments devoted to all of the band members pursuing their own private tours and interests throughout Hungary.
Freddie works the audience as he was wont to do, and expends a lot energy doing so (he ditches his shirt toward the end of the concert, sending the audience into near hysteria). Sadly, this was to be the last tour that Queen would play with Freddie Mercury, but luckily we have this wonderful souvenir of what must have been one hell of a good time.
The concert includes the following songs:
01. One Vision
02. Tie Your Mother Down
03. In the Lap of the Gods. . .Revisited
04. Seven Seas of Rhye
05. Tear It Up
06. A Kind of Magic
07. Under Pressure
08. Who Wants to Live Forever
09. I Want to Break Free
10. Guitar Solo
11. Now I'm Here
12. Love of My Life
13. Tavaszi Szet Vizet Araszt
14. Is This the World We Created. . .?
15. Tutti Frutti
16. Bohemian Rhapsody
17. Hammer to Fall
18. Crazy Little Thing Called Love
19. Radio Ga Ga
20. We Will Rock You
21. Friends Will Be Friends
22. We Are the Champions
23. God Save the Queen