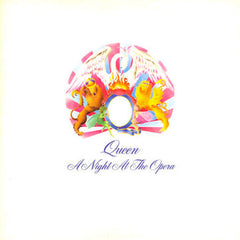 Queen: A Night At The Opera 1979 (LP 180 gm) 2022 Release Date: 9/23/2022
Limited Edition - Gatefold 180-gram vinyl. A Night at the Opera is the fourth studio album by the British rock band Queen, released on 21 November 1975 by EMI Records in the United Kingdom and by Elektra Records in the United States. Produced by Roy Thomas Baker and Queen, it was reportedly the most expensive album ever recorded at the time of its release.
Queen were straining at the boundaries of hard rock and heavy metal on Sheer Heart Attack, but they broke down all the barricades on A Night at the Opera, a self-consciously ridiculous and overblown hard rock masterpiece. Using the multi-layered guitars of its predecessor as a foundation, A Night at the Opera encompasses metal ("Death on Two Legs," "Sweet Lady"), pop (the lovely, shimmering "You're My Best Friend"), campy British music hall ("Lazing on a Sunday Afternoon," "Seaside Rendezvous"), and mystical prog rock ("'39," "The Prophet's Song"), eventually bringing it all together on the pseudo-operatic "Bohemian Rhapsody." In short, it's a lot like Queen's own version of Led Zeppelin IV, but where Zep find dark menace in bombast, Queen celebrate their own pomposity. No one in the band takes anything too seriously, otherwise the arrangements wouldn't be as ludicrously exaggerated as they are. But the appeal -- and the influence -- of A Night at the Opera is in its detailed, meticulous productions. It's prog rock with a sense of humor as well as dynamics, and Queen never bettered their approach anywhere else.
Queen: Freddie Mercury (vocals, piano); Brian May (guitar, harp, ukulele, background vocals); John Deacon (electric piano, acoustic & electric basses); Roger Taylor (percussion, background vocals).
Recorded at Sarm Studios, Roundhouse Studios, Olympic Studios, Scorpio Studios, Landsdowne Studios, London, England and Rockfield Studios, Wales.
FEATURES:
Format: Vinyl

Genre: Rock

Limited Edition Import (UK)

Heavyweight, 180 Gram black vinyl

Embossed Gatefold Jacket

Half-Speed Mastered
Queen - A Night At The Opera (Limited Edition Import, Remastered, Embossed Gatefold, 180 Gram) (LP)
1

 Death on Two Legs (Dedicated to...)

2

 Lazing on a Sunday Afternoon

3

 I'm in Love with My Car

4

 You're My Best Friend

5

 '39

6

 Sweet Lady

7

 Seaside Rendezvous

8

 The Prophet's Song

9

 Love of My Life

10

 Good Company

11

 Bohemian Rhapsody

12

 God Save the Queen
Label: Hollywood Records

UPC: 050087512194

Genre: Rock

Release Date: 9/23/2022

Product ID: HWDD004075901.1

Weight: .83 lb