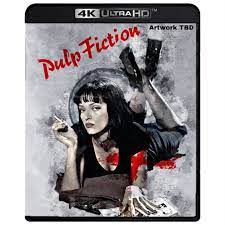 Pulp Fiction 1994 (4K Ultra HD+Blu-ray+Digital Copy) Rated: R 2022 Release Date: 11/1/2022
Writer/director Quentin Tarantino's highly stylized, Oscar-winning salute to old-time crime novels flips back and forth in time to interweave tales of temptation, violence, and redemption. The tangled roster of characters includes hit man odd couple Vincent and Jules (John Travolta, Samuel L. Jackson), coke-sniffing mobster's wife Mia (Uma Thurman), and crooked boxer Butch (Bruce Willis).  
With Harvey Keitel, Ving Rhames, Maria de Medeiros, Tim Roth, Amanda Plummer, Christopher Walken. 154 min. Widescreen (Enhanced); Soundtracks: Dolby Atmos English DTS HD 5.1 Master Audio; Subtitles: English (SDH), Spanish; additional scenes; featurette; photo gallery; TV spots; theatrical trailer.