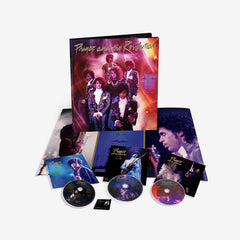 Prince: Prince and the Revolution Live Syracuse, New York1985 (2CD/Blu-ray) Dolby Atmos Booklet Remastered 2022 Release Date: 6/3/2022

Prince and the Revolution - Live - 2-CD / Blu-ray Disc - James Brown had the Apollo. Jimi Hendrix had Monterey Pop. And Prince had Syracuse, New York's Carrier Dome-the Purple Rain Tour performance that was beamed to millions live via satellite and captured for posterity in the Grammy Award-nominated concert film Prince and The Revolution: Live, and has since gone down in history as one of the most iconic live recordings in pop and rock history.
For the first time, this powerful performance by Prince and The Revolution has been entirely remixed from the original 2" multitrack master reels, the picture has been newly restored onto Blu-ray video with selectable stereo, 5.1 surround and Dolby Atmos sound and the audio will be made available for the first time physically. The new version of Prince and The Revolution: Live will be available on 2CDs plus the Blu-ray with a 16-page book with never-before-seen photos of the Purple Rain Tour and new liner notes. 2CD/BR. 
- Disc 1 -

1

 Let's Go Crazy

2

 Delirious

3

 1999

4

 Little Red Corvette

5

 Take Me with U

6

 Yankee Doodle

7

 Do Me, Baby

8

 Irresistible Bitch

9

 Possessed

10

 How Come U Don't Call Me Anymore

11

 Let's Pretend We're Married

12

 International Lover

13

 God

14

 Computer Blue
- Disc 2 -

1

 Darling Nikki

2

 The Beautiful Ones

3

 When Doves Cry

4

 I Would Die 4 U

5

 Baby, I'm a Star

6

 Purple Rain
- Disc 3 -

1

 Let's Go Crazy

2

 Delirious

3

 1999

4

 Little Red Corvette

5

 Take Me with U

6

 Yankee Doodle Dandy

7

 Do Me, Baby

8

 Irresistible Bitch

9

 Possessed

10

 How Come U Don't Call Me Anymore

11

 Let's Pretend We're Married

12

 International Lover

13

 God

14

 Computer Blue

15

 Darling Nikki

16

 The Beautiful Ones

17

 When Doves Cry

18

 I Would Die 4 U

19

 Baby I'm a Star

20

 Purple Rain
LABEL: Sony Legacy
NUMBER OF DISCS: 3
UPC: 194399571620
GENRE: Soul/R & B
RELEASE DATE: 6/3/2022
PRODUCT ID: SNYL995716.2
WEIGHT: .46 lb