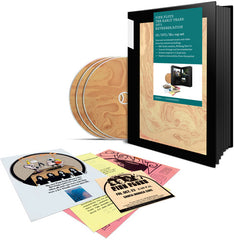 Pink Floyd: 1971 Reverber/ ation (Boxed Set CD/DVD/ Blu-ray/CD Digipack Packaging) CD 2017 Release Date: 3/24/2017
Three disc (CD + DVD + Blu-ray) set. In 1971 Pink Floyd recorded the Meddle album, containing the LP side-long 'Echoes', regarded by many as laying the groundwork for The Dark Side Of The Moon, and, as such, is an important part of The Pink Floyd canon.
This package includes part of the original demos, when the project gestated from Nothing to Return Of The Son Of Nothing, as well as a contemporary BBC session recording. Audio-visual material includes the original unreleased Quad mix of 'Echoes' but also material of live band performances in 1971, including songs performed with Roland Petit and his Marseille ballet company. 
- Disc 1 -

1

 Nothing, Pt. 14

2

 Fat Old Sun

3

 One of These Days

4

 Embryo

5

 Echoes

- Disc 2 -

1

 Interview + Atom Heart Mother

2

 A Saucerful of Secrets

3

 Set the Controls for the Heart of the Sun

4

 Cymbaline

5

 Atom Heart Mother

6

 Careful with That Axe, Eugene

7

 Band Interview

8

 24 Hours - Bootleg Records

9

 Review

10

 One of These Days (French Windows)

11

 Atom Heart Mother

12

 Atom Heart Mother

13

 Echoes

- Disc 3 -

1

 Interview + Atom Heart Mother

2

 A Saucerful of Secrets

3

 Set the Controls for the Heart of the Sun

4

 Cymbaline

5

 Atom Heart Mother

6

 Careful with That Axe, Eugene

7

 Band Interview

8

 24 Hours - Bootleg Records

9

 Review

10

 One of These Days (French Windows)

11

 Atom Heart Mother

12

 Atom Heart Mother

13

 Echoes