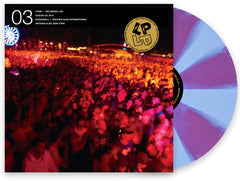 Phish: LP On LP 03 Phish's Magnaball Festival at Watkins Glen International 2015 Tweezer / Prince Caspian (LP) 2022 Release Date: 8/12/2022
The third installment of the LP ON LP vinyl series is Tweezer Prince Caspian from the second of three nights at Phish's Magnaball festival at Watkins Glen International, an auto racing track in the finger lakes region of New York.
The Magnaball Tweezer Prince Caspian closed set II with a thunderous 1-2 finish and a 35 minute ride for fans. LP ON LP 03 was recorded by Garry Brown and mixed from the multitrack masters by Vance Powell. 'Ferris Wheel' edition first pressing.
- Disc 1 -

1

 Tweezer

- Disc 2 -

1

 Prince Caspian
Label: Jemp Records

UPC: 850014859268

Genre: Rock

Release Date: 8/12/2022

Product ID: JEMP859268.1

Weight: .6 lb