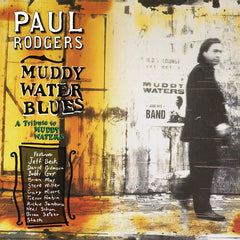 Paul Rodgers: Muddy Water Blues A Tribute To Muddy Waters (180 Gram Vinyl Gatefold Jacket 2 LP) 2021 Release Date: 6/18/2021
Description
Muddy Water Blues: A Tribute to Muddy Waters is the second solo album by Paul Rodgers, best known as the vocalist of Free and Bad Company. 
This album features collaborations with many artists, including Brian May, Buddy Guy, David Gilmour, Jeff Beck, Gary Moore, Richie Sambora, Slash, and Steve Miller. He took these classic blues tunes and arranged them a little more towards rock. The album was recorded at various studios due to the many guests on the album, but producer Billy Sherwood managed to keep the sound pretty similar throughout. Muddy Water Blues was nominated for a Grammy Award.
Available on black vinyl.
- Disc 1 -

1

 Muddy Water Blues (Acoustic Version) (Feat. Buddy Guy)

2

 Louisiana Blues (Feat. Trevor Rabin)

3

 I Can't Be Satisfied (Feat. Brian Setzer)

4

 Rollin' Stone (Feat. Jeff Beck)

5

 Good Morning Little School Girl - Part I (Feat. Jeff Beck)

6

 I'm Your Hoochie Coochie Man (Feat. Steve Miller)

7

 She's Alright (Feat. Trevor Rabin)
- Disc 2 -

1

 Standing Around Crying (Feat. David Gilmour)

2

 The Hunter (Feat. Slash)

3

 She Moves Me (Feat. Gary Moore)

4

 I'm Ready (Feat. Brian May)

5

 I Just Want to Make Love to You (Feat. Jeff Beck)

6

 Born Under a Bad Sign (Feat. Neal Schon)

7

 Good Morning Little School Girl - Part II (Feat. Richie Sambora)

8

 Muddy Water Blues (Electric Version) (Feat. Neal Schon)
Label: Music on Vinyl
Vendor: Urp Music Distribution
Distributor: AMPED
Number of Discs: 2
UPC: 8719262020153
Genre: Rock
Release Date: 6/18/2021
Product ID: MCVL271600.1
Last Return Date: 6/18/2021
This product is non-returnable
Weight: 1.24 lbs