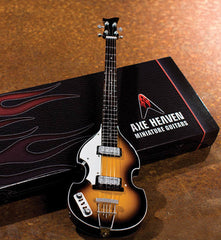 Paul McCartney Beatles Hofner Violin Mini Bass Guitar Replica Collectible (Large Item, Collectible)
NO FURTHER DISCOUNTS APPLY-NO AUTO DISCOUNT
Overview
Paul McCartney Beatles Hofner Violin Mini Bass Guitar Replica Collectible.
Hand-crafted to honor the Legendary Sir Paul McCartney.
Notice the details of this left-handed bass. This is a very rare and unique solid wood miniature.
Macca purchased the original bass guitar, a Hofner 500/1 model in Hamburg, Germany in 1961 & played it at all the Beatles gigs back in Liverpool, England & on tour in the early 60's.
Features
Brand: Axe Heaven

Size: Each guitar model is approximately 10" in length.

Each AXE HEAVEN® ornamental replica guitar is 1:4 scale and is individually handcrafted from solid wood, with metal tuning keys.

Includes a high-quality miniature adjustable A-frame guitar stand for display.

Packed in an AXE HEAVEN® guitar case gift box stamped with silver foil.

All mini guitars are packed in the same style box measuring 11.75" W x 4.5" D x 1.25" H

AXE HEAVEN® Miniature Replica guitars look great but are Not playable.

These ornamental miniature replica guitar collectibles make great gifts for musicians & music aficionados alike!

A must for Paul McCartney & Beatles fans & collectors.

Weight: approximately 14 oz.

Officially licensed

Product materials are sourced from Brazil & Indonesia then assembled & packaged in the USA.

Brand: Axe Heaven
All Products: Paul McCartney
UPC:

661239448850

Product ID:

AXEH48850

Weight: .38 lb

Available Date: 4/1/2019

Model Number: PM-025