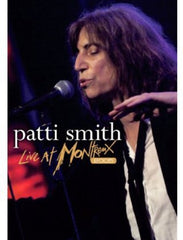 Patti Smith: Live at Montreux 2005 DVD Release Date: 11/13/2012
Patti Smith was one of the key artists in the breakthrough of New York City punk rock with her 1975 debut album Horses being hugely influential on the whole New Wave genre.
Her distinctive blend of rock, punk and poetry combined with her uncompromising style has ensured that she has remained a credible artist throughout her career. This concert at Montreux from 2005 was part of the tour in support of her 2004 album Trampin and the setlist features tracks from her first album right through to that release. Patti Smith remains a vibrant live performer and this first ever live concert DVD is a long overdue treat for all her fans. Line-Up: Along with Patti Smith on vocals, guitar and clarinet, the band line-up includes original Patti Smith Group members Lenny Kaye (guitar & vocals) and Jay Dee Daugherty (drums), Tom Verlaine of Television on guitars and long standing band member Tony Shanahan on bass, keyboards and vocals.