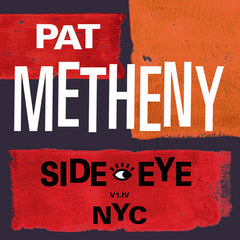 Pat Metheny: Side-Eye NYC (V1.1V) LP 2021 Release Date: 10/22/2021
Pat explains, "I wanted to create an ongoing platform to host a rotating cast of the newer generations of musicians who have particularly caught my interest along the way. From my earliest days in Kansas City onward, I was the beneficiary of so many older musicians hiring me, which gave me a chance to develop through the prism of their experiences and the particular demands of what their music implied." 
Metheny has given this band concept the name Side-Eye and hopes that it might become a rotating group of musicians who could come and go in different combinations. So far, there have been four iterations, hence the V.1-IV sub-heading on the record. Whether searingly electric, powerfully intense or deeply contemplative, highly composed or totally improvised, or even with some new-fangled contraption of his own design, there is always that unmistakable Metheny sensibility at work that has stood at the forefront of jazz for what is now approaching five decades. The Side-Eye series is the latest chapter in his continually unfolding story. 
- Disc 1 -

1

 It Starts When We Disappear

2

 Better Days Ahead

- Disc 2 -

1

 Timeline

2

 Bright Size Life

- Disc 3 -

1

 Lodger

2

 Sirabhorn

3

 Turnaround

- Disc 4 -

1

 Zenith Blue
LABEL: Modern Recordings

UPC: 4050538693935

GENRE: Jazz

RELEASE DATE: 10/22/2021

PRODUCT ID: MDRE93935.1

LAST RETURN DATE: 10/22/2021

THIS PRODUCT IS NON-RETURNABLE

WEIGHT: 1.15 lbs