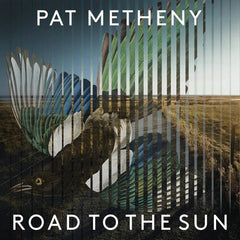 Pat Metheny: Road To The Sun Limited Edition (Deluxe Edition Vinyl 2LP + CD Box Set) 2021 Release Date: 11/26/2021
Composer, multi-instrumentalist and twenty time Grammy-winner Pat Metheny returns with Road To The Sun, his debut for BMG Modern Recordings and the latest chapter in an endlessly innovative career that spans nearly five decades.
A collection of two major new works composed by Metheny and performed by five of the world ́s leading guitarists, Road To The Sun unveils new facets of an already expansive personal language while obliterating any genre boundaries that stand in it's way. Road To The Sun: Deluxe Edition vinyl 2LP + CD box set with specially designed lenticular cover of the album artwork plus two books containing the full scores and numbered art card hand signed by Pat.
Pat Metheny is one of the few artists in the world who can lay claim to such a description. On his album Road To The Sun, which was released on March 21, 2021 and which was his first classical album, Pat Metheny surprised us once again with his seemingly endless ability to harvest new vistas while retaining the instantly recognizable Metheny sound. The album was a huge success and was No. 1 in the US Billboard Classic Charts as well as the UK Classic Charts and also reached the Top 10 in the German Media Control Charts.  Metheny charts a new way of obliterating boundaries between genres while simultaneously unveiling new facets of an already expansive personal language. Grammy-winner Jason Vieaux, described by NPR as "perhaps the most precise and soulful classical guitarist of his generation" was tapped by Metheny to perform his four-movement solo guitar suite Four Paths Of Light. The centerpiece of this landmark recording is Road To The Sun, a six-movement piece for fellow Grammy-award winning Los Angeles Guitar Quartet LAGQ – Metheny describes them as "one of the best bands in the world". Guitarist and composer PAT METHENY has won 20 Grammy Awards in 12 different categories including Best Rock Instrumental, Best Contemporary Jazz Recording, Best Jazz Instrumental Solo, Best Instrumental Composition. The Pat Metheny Group won an unprecedented seven consecutive Grammies for seven consecutive albums.