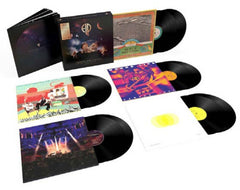 Emerson Lake & Palmer: Out Of This World: Live (1970-1997) (Boxed Set, Gatefold 10 Disc LP Jacket Photo Book) 2021 Release Date: 10/29/2021
Prog-Rock giants EMERSON, LAKE & PALMER were formed in 1970 by the brilliant keyboard virtuoso Keith Emerson, gifted singer / composer / guitarist Greg Lake and dynamic drummer / percussionist Carl Palmer. Throughout their career performed at some of the most famous venues across the world.
Available for the first time; OUT OF THIS WORLD: LIVE (1970 -1997).A career-spanning box set, showcasing some of the biggest and most important live shows ELP have ever played. Encased inspecial, black, matte slipcase with hot foil finishes. Each LP has been reimagined with beautiful new designs on deluxe gatefold double LPs. Most of the LPs previously unreleased on vinyl and have not been re-issued on CD for long time.
Featured within the box set is a 32 page, glossy photobook,with intimate and unseen images of the band from legendary photographers Lynn Goldsmith and Neil Preston. Foreword written by Jerry Ewing editor of Prog magazine.
Previously unreleased live show of Phoenix 1997 includedwithin both 10LP & 7CD Box Set. High quality, fully-restored audio, mastered by ELP expert and renowned mastering engineer Andy Pearce.
Emerson, Lake & Palmer/Out of This World: Live (1970-1997)
- Disc 1 -

1

 The Barbarian (Live at the Isle of Wight Festival, Newport, UK, 29th August 1970)

2

 Take a Pebble (Live at the Isle of Wight Festival, Newport, UK, 29th August 1970)

- Disc 2 -

1

 Pictures at An Exhibition: Promenade Pt.1 / the Gnome / Promenade Pt.2 / the Sage / the Old Castle /

- Disc 3 -

1

 Pictures at An Exhibition (Continued): Promenade Pt.3 / the Hut of Baba Yaga / the Curse of Baba Ya

- Disc 4 -

1

 Rondo (Live at the Isle of Wight Festival, Newport, UK, 29th August 1970)

2

 Nutrocker (Live at the Isle of Wight Festival, Newport, UK, 29th August 1970)

3

 Interview (Live at the Isle of Wight Festival, Newport, UK, 29th August 1970)

- Disc 5 -

1

 Toccata (Live at California Jam, Ontario Motor Speedway, California, USA 6th April 1974)

2

 Still... You Turn Me on (Live at California Jam, Ontario Motor Speedway, California, USA 6th April

3

 Lucky Man (Live at California Jam, Ontario Motor Speedway, California, USA 6th April 1974)

- Disc 6 -

1

 Piano Improvisations (Including 'Fugue' and 'Little Rock Getaway) (Live at California Jam, Ontario M

2

 Take a Pebble (Live at California Jam, Ontario Motor Speedway, California, USA 6th April 1974)

- Disc 7 -

1

 Karn Evil 9 1st Impression (Pt.2) (Live at California Jam, Ontario Motor Speedway, California, USA 6

- Disc 8 -

1

 Karn Evil 9 3rd Impression (Live at California Jam, Ontario Motor Speedway, California, USA 6th Apri

2

 Pictures at An Exhibition: The Great Gates of Kiev (Live at California Jam, Ontario Motor Speedway

- Disc 9 -

1

 Introductory Fanfare (Live 1977/78)

2

 Peter Gunn (Live 1977) - By Keith Emerson

3

 Tiger in a Spotlight (Live 1977/78)

4

 C'est la Vie (Live at Olympic Stadium, Montreal, 1977) - By Keith Emerson

5

 Watching Over You (Live at Olympic Stadium, Montreal, 1977) - By Keith Emerson

6

 Maple Leaf Rag (Live at Olympic Stadium, Montreal, 1977)

7

 The Enemy God Dances with the Black Spirits (Live at Olympic Stadium, Montreal, 1977)

- Disc 10 -

1

 Fanfare for the Common Man (Live at Olympic Stadium, Montreal, 1977)

2

 Knife-Edge (Live at Olympic Stadium, Montreal, 1977)

3

 Show Me the Way to Go Home (Live at Olympic Stadium, Montreal, 1977)

- Disc 11 -

1

 Abaddon's Bolero (Live at Olympic Stadium, Montreal, 1977)

2

 Pictures at An Exhibition (Live at Olympic Stadium, Montreal, 1977)

- Disc 12 -

1

 Closer to Believing (Live at Olympic Stadium, Montreal, 1977)

2

 Piano Concerto Third Movement: Toccata Con Fuoco (Live at Olympic Stadium, Montreal, 1977)

3

 Tank (Live at Olympic Stadium, Montreal, 1977)

- Disc 13 -

1

 Karn Evil 9 1st Impression, Pt. 2 (Live at the Albert Hall) [2017 - Remaster]

2

 Tarkus (I. Eruption II. Stones of Years III. Iconoclast) [Live at the Albert Hall] [2017 - Remaster]

3

 Knife Edge (Live at the Albert Hall) [2017 - Remaster]

- Disc 14 -

1

 Paper Blood (Live at the Albert Hall) [2017 - Remaster]

2

 Romeo and Juliet (Live at the Albert Hall) [2017 - Remaster]

3

 Creole Dance (Live at the Albert Hall) [2017 - Remaster]

4

 Still... You Turn Me on (Live at the Albert Hall) [2017 - Remaster]

5

 Lucky Man (Live at the Albert Hall) [2017 - Remaster]

- Disc 15 -

1

 Black Moon (Live at the Albert Hall) [2017 - Remaster]

2

 Pirates (Live at the Albert Hall) [2017 - Remaster]

- Disc 16 -

1

 Finale (Medley) [I. Fanfare for the Common Man II. America III. Rondo] [Live at the Albert Hall] [20

- Disc 17 -

1

 Karn Evil 9 1st Impression (Pt. 2) (Union Hall, Phoenix, Arizona, USA, 23rd September, 1997)

2

 Hoedown (Union Hall, Phoenix, Arizona, USA, 23rd September, 1997)

3

 Touch and Go (Union Hall, Phoenix, Arizona, USA, 23rd September, 1997)

4

 From the Beginning (Union Hall, Phoenix, Arizona, USA, 23rd September, 1997)

5

 Knife-Edge (Union Hall, Phoenix, Arizona, USA, 23rd September, 1997)

- Disc 18 -

1

 Bitches Crystal (Union Hall, Phoenix, Arizona, USA, 23rd September, 1997)

2

 Creole Dance (Union Hall, Phoenix, Arizona, USA, 23rd September, 1997)

3

 Honky Tonk Train Blues (Union Hall, Phoenix, Arizona, USA, 23rd September, 1997)

4

 Take a Pebble (Union Hall, Phoenix, Arizona, USA, 23rd September, 1997)

5

 Lucky Man (Union Hall, Phoenix, Arizona, USA, 23rd September, 1997)

- Disc 19 -

1

 Tarkus: Eruption / Stone of Years / Iconoclast / Mass (Union Hall, Phoenix, Arizona, USA, 23rd Septe

2

 Pictures at An Exhibition: The Great Gates of Kiev (Union Hall, Phoenix, Arizona, USA, 23rd Septembe

- Disc 20 -

1

 Fanfare for the Common Man (Including Drum Solo) / Blue Rondo a la Turk (Union Hall, Phoenix, Arizon

2

 21st Century Schizoid Man / America (Union Hall, Phoenix, Arizona, USA, 23rd September, 1997)