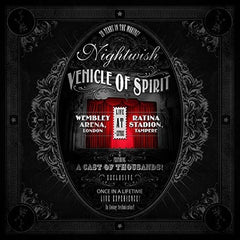 Nightwish: Vehicle Of Spirit Live London & Tampere London (2CD/Blu-ray/DVD) 2017 Release Date: 1/6/2017
Deluxe double CD + Blu-ray+DVD edition. 2017 live release from the Finnish symphonic metal band. Since the release of 2015's triumphant Endless Forms Most Beautiful, Nightwish have toured the world including two headlining runs in North America, taking their latest offering to their fans. Vehicle of Spirit is a collection live recordings, all performed at two sold-out shows in London and Tempere. 
With over 60,000 copies sold in North America, Endless Forms Most Beautiful has become a fan favorite and has cemented them as one of the largest symphonic metal bands in the world.
- Disc 1 -

1

 CD1 - Shudder Before the Beautiful 6:34

2

 Yours Is An Empty Hope 5:47

3

 Ever Dream 5:10

4

 Storytime 6:09

5

 My Walden 5:14

6

 While Your Lips Are Still Red 4:38

7

 Élan 4:26

8

 Weak Fantasy 6:13

9

 7 Days to the Wolves 7:11

10

 Alpenglow 4:55

- Disc 2 -

1

 CD2 - the Poet and the Pendulum 14:01

2

 Nemo 4:37

3

 I Want My Tears Back 5:18

4

 Stargazers 4:30

5

 Ghost Love Score 10:39

6

 Last Ride of the Day 4:49

7

 The Greatest Show on Earth 21:14

- Disc 3 -

1

 BD1 Shudder Before the Beautiful

2

 Yours Is An Empty Hope

3

 Ever Dream

4

 Storytime

5

 My Walden

6

 While Your Lips Are Still Red

7

 Élan

8

 Weak Fantasy

9

 7 Days to the Wolves

10

 Alpenglow

11

 The Poet and the Pendulum

12

 Nemo

13

 I Want My Tears Back

14

 Stargazers

15

 Ghost Love Score

16

 Last Ride of the Day

17

 The Greatest Show on Earth

18

 The Tampere Show

- Disc 4 -

1

 BD2 - the Tampere Show - Shudder Before the Beautiful

2

 Yours Is An Empty Hope

3

 Amaranth

4

 She Is My Sin

5

 Dark Chest of Wonders

6

 My Walden

7

 The Islander

8

 Élan

9

 Weak Fantasy

10

 Storytime

11

 Endless Forms Most Beautiful

12

 Alpenglow

13

 Stargazers

14

 Sleeping Sun

15

 Ghost Love Score