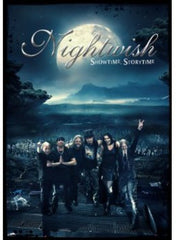 Nightwish: Showtime, Storytime (2CD+2DVD) 2013 Release Date: 12/10/2013
Four disc (two CDs + two DVDs) edition. 2013 live album from the Finnish Symphonic Metal band. Recorded during their live performance at the Wacken Open Air in Wacken, Germany on August 3, 2013.
Showtime, Storytime is the first Nightwish production to feature Floor Jansen on vocals. She initially replaced previous vocalist Anette Olzon during their North America tour leg, and on October 9, 2013, it was revealed that she would become an official band member, alongside with Troy Donockley. The release also contains a 120 minute documentary about the first days of Jansen in the band, still as a only live member, and her process of adaptation in the band.
- Disc 1 -

1

 Showtime

2

 Dark Chest of Wonders

3

 Wish I Had An Angel

4

 She Is My Sin

5

 Ghost River

6

 Ever Dream

7

 Storytime

8

 I Want My Tears Back

9

 Nemo

10

 Last of the Wilds

11

 Bless the Child

12

 Romanticide

13

 Amaranth

14

 Ghost Love Score

15

 Song of Myself

16

 Last Ride of the Day

17

 Outro (Imaginaerum)

18

 I Want My Tears Back [Live from Helsinki] [Live]

19

 Ghost Love Score [Live from Buenos Aires] [Live]

- Disc 2 -

1

 Storytime

2

 Please Learn the Setlist in 48 Hours

3

 Nightwish Table Hockey Tournament

4

 Christmas Song for a Lonely Documentarist

- Disc 3 -

1

 Dark Chest of Wonders

2

 Wish I Had An Angel

3

 She Is My Sin

4

 Ghost River

5

 Ever Dream

6

 Storytime

7

 I Want My Tears Back

8

 Nemo

- Disc 4 -

1

 Last of the Wilds

2

 Bless the Child

3

 Romanticide

4

 Amaranth

5

 Ghost Love Score

6

 Song of Myself

7

 Last Ride of the Day

8

 Outro (Imaginaerum)