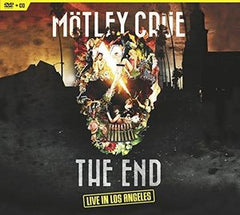 Motley Crue: The End Live In Los Angeles Staples Center New Years Eve 2015 CD/DVD Edition 2016 11/04/16 DVD Also Avail
On December 31, 2015, legendary rock icons Mötley Crüe completed their 35-year touring career as a band with a spectacular final concert at Staples Center in their hometown of Los Angeles, CA, just 10 miles from the Sunset Strip where the band's infamous and decadent career first launched.
The band thrilled the sold-out arena with performances of such mega-hits as Kickstart My Heart, Girls, Girls, Girls, Home Sweet Home and Dr. Feelgood. While not everyone was able to see their Final Show live, Crüe fans can now catch all the action when Mötley Crüe: The End is a new Blu-ray/CD and DVD/CD. In addition to the epic concert footage, audiences will be treated to behind-the-scenes footage of the band's last global tour.
Release Date: 11/4/2016
UPC: 801213078295
Product ID: EGVS307829DVD
Weight: .28 lb
Distributor/Studio: Eagle Rock Ent