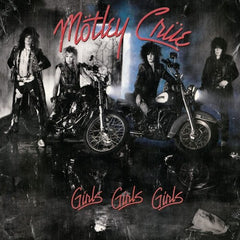 Motley Crue: Girls, Girls, Girls 1987 (LP) Remastered 2022 Release Date: 7/22/2022
Vinyl LP pressing. Girls, Girls, Girls is Mötley Crüe's fourth studio album originally released in 1987. The album contains the hit singles "Girls, Girls, Girls", "You're All I Need", and the MTV favorite "Wild Side". It was the band's final collaboration with producer Tom Werman, who had produced the band's two previous albums, Shout at the Devil and Theatre of Pain. 
Like those albums, Girls, Girls, Girls would achieve quadruple platinum status, selling over 4 million copies and reaching number two on the Billboard 200. The album marked a change to a blues-rock influenced sound, which was met with positive reception. 
- Disc 1 -

1

 Wild Side (2021 - Remaster)

2

 Girls, Girls, Girls (2021 - Remaster)

3

 Dancing on Glass (2021 - Remaster)

4

 Bad Boy Boogie (2021 - Remaster)

5

 Nona (2021 - Remaster)

- Disc 2 -

1

 Five Years Dead (2021 - Remaster)

2

 All in the Name of... (2021 - Remaster)

3

 Sumthin' for Nuthin' (2021 - Remaster)

4

 You're All I Need (2021 - Remaster)

5

 Jailhouse Rock (Live) [2021 - Remaster]
LABEL: BMG Rights Managemen

UPC: 4050538782561

GENRE: Rock

RELEASE DATE: 7/22/2022

PRODUCT ID: BGRT782561.1

WEIGHT: .62 lb