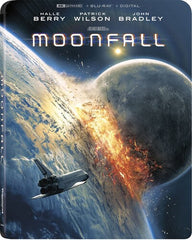 Moonfall: (4K Ultra HD+Blu-ray+Digital) Rated: PG13 2022 Release Date: 4/26/2022
In director Roland Emmerich's exciting sci-fi disaster epic, the moon's orbit begins to change, bringing it dangerously close to the Earth. Now, a NASA official (Halle Berry), a former astronaut and shuttle pilot (Patrick Wilson), and a conspiracy theorist (John Bradley) will learn the amazing truth about the moon's ancient origins as they undertake a perilous space mission to avert certain doom.
With Michael Peña, Charlie Plummer, and Donald Sutherland. 130 min. Widescreen; Soundtrack: English. Two-disc set.