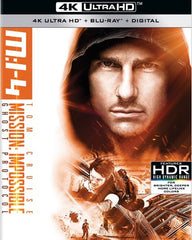 Mission: Impossible: Ghost Protocol (4K ULTRA HD+Blu-ray+Digital) 2011 Release Date: 6/26/2018
In the exciting fourth entry in the successful action series, an attack on the Kremlin leaves IMF agent Ethan Hunt (Tom Cruise) and his team falsely accused of international terrorism.
Forced to go underground, they must race against time to clear their names while trying to stop a plot to orchestrate a nuclear war between the United States and Russia. Jeremy Renner, Simon Pegg, Paula Patton, Michael Nyqvist, and, in a cameo, Ving Rhames co-star in director Brad Bird's first live-action film. 132 min. Widescreen; Soundtrack: English. Three-disc set.
Starring: Michael Nyqvist, Tom Cruise, Jeremy Renner, Paula Patton, Simon Pegg, Ving Rhames

UPC: 032429306326

Director: Brad Bird

Rated: PG13

Genre: Action / Adventure

Release Date: 6/26/2018

Product ID: PRT59197074000UHD

Subtitles: ENG, FRE, POR, SPA

Dubbed: FRE, POR, SPA

Original Language: ENG

Original Year: 2011

Run Time: 132 minutes

Distributor/Studio: Paramount

Number of Discs: 3

Weight: .27 lb