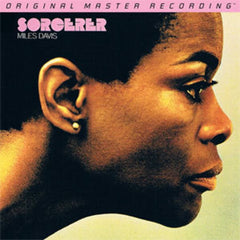 Miles Davis: Sorcerer 1967 SACD Mobile Fidelity HiRES 96/24 2015 Release Date: 7/10/2015
Filled with aural magic and enchanting musical spells, Sorcerer is true to it's name. The third of five albums devised by Miles Davis' legendary second quintet-and the second record in a still-unprecedented string of eight consecutive releases within a four-year period that forever changed the face of jazz-the 1967 magnum opus mesmerizes with instrumental colors, subdued musings, and subtle details.
These crucial characteristics blossom with vibrant realism on Mobile Fidelity's definitive pressing.
Mastered from the original master tapes, this collectable audiophile edition of Sorcerer joins the ranks of eleven other essential Davis records given supreme sonic and packaging treatment by Mobile Fidelity. Longtime listeners will immediately recognize a wealth of information and depth of tonality unavailable on prior versions. The myriad shadings, interwoven textures, and relaxed nuances that tie the post-bop set's warm compositions together are rendered with utmost realism.A lasting example of Davis' visionary insight, Sorcerer is comprised entirely of pieces written by his band mates. Indeed, save for the closing "Nothing Like You"-a brief tribute to Davis' eventual wife, who also graces the cover, recorded in 1962 and adorned with vocals from Bob Dorough-the album represents a further maturation and refinement of a quintet that stands as one of the finest in jazz history. Mobile Fidelity is proud to give the record the treatment it's long deserved. 
1

 Prince of Darkness

2

 Pee Wee

3

 Masqualero

4

 The Sorcerer

5

 Limbo

6

 Vonetta

7

 Nothing Like You