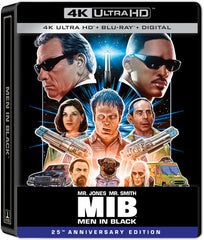 Men in Black 25th Anniversary Steelbook (4K Ultra HD+Blu-ray+Digital) 4K Ultra HD Rated: PG13 2022 Release Date: 7/19/2022
This product is currently sold out.
The original blockbuster favorite returns to 4K UHD for it's 25th anniversary, presented within a limited edition SteelBook with all-new artwork. Featuring all-new interviews with director Barry Sonnenfeld and production designer Bo Welch. Feature presented with Dolby Vision + Dolby Atmos & original 5.1 audio.