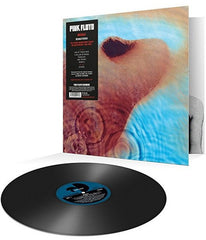 Pink Floyd: Meddle 1971 Gatefold LP Jacket (180 Gram Vinyl) LP 2016 Release Date: 9/23/2016
Limited 180gm vinyl LP pressing in gatefold jacket. Original vinyl packaging has been lovingly replicated with special care. Meddle is the sixth studio album by Pink Floyd, released on 31 October 1971 by Harvest Records. It was produced between the band's touring commitments, from January to August 1971. 
The album was recorded at a series of locations around London, including Abbey Road Studios and Morgan Studios. With no material to work with and no clear idea of the album's direction, the group devised a series of novel experiments which eventually inspired the album's signature track, "Echoes". Although many of the band's later albums would be unified by a central theme with lyrics written mainly by Roger Waters, Meddle was a group effort with lyrical contributions from each member, and is considered a transitional album between the Syd Barrett-influenced group of the late 1960s and the emerging Pink Floyd. 
- Disc 1 -

1

 One of These Days 5:54

2

 A Pillow of Winds 5:12

3

 Fearless 6:07

4

 San Tropez 3:43

5

 Seamus 2:14

- Disc 2 -

1

 Echoes 23:32