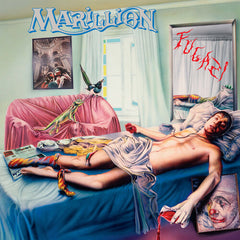 Marillion: Fugazi (2021 Stereo Remix) (LP) Release Date: 2/18/2022
Description
2021 Stereo Remix On Vinyl LP!
In March 1984, Marillion released their second studio album Fugazi, which went on to be certified Gold and reach number 5 in the UK albums charts. The classic album spawned two singles "Assassing" and "Punch & Judy", both reaching #22 and #29 on the UK singles charts respectively.
Fugazi was the first Marillion album to feature Ian Mosley on drums and percussion, replacing Mick Pointer after the highly successful Script For A Jester's Tear. It also included Fish, Steve Rothery, Pete Trewavas and Mark Kelly.
2021 remixed stereo version by Andy Bradfield and Avril Mackintosh on 1LP.
Marillion Fugazi (2021 Stereo Remix) LP
- Disc 1 -

1

 Assassing (2021 Stereo Remix)

2

 Punch and Judy (2021 Stereo Remix)

3

 Jigsaw (2021 Stereo Remix)

4

 Emerald Lies (2021 Stereo Remix)

- Disc 2 -

1

 She Chameleon (2021 Stereo Remix)

2

 Incubus (2021 Stereo Remix)

3

 Fugazi (2021 Stereo Remix)
Label: Rhino / Parlophone

UPC: 190295016487

Genre: Rock

Release Date: 2/18/2022

Product ID: RPLH680925.1

Weight: .78 lb