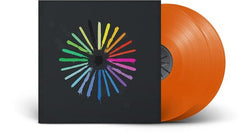 Marillion: An Hour Before It's Dark (Limited Edition Orange Vinyl 2xLP) 2022 Release Date: 3/4/2022
Description 
THE ARTIST British rock band Marillion, founded in 1979, have, over the course of 19 studio albums, become one of the most commercially successful progressive rock bands of the 1980s and are still one of the most outstanding representatives of their genre. As the first of their peers, Marillion have started to embrace the potential of the internet for both their commercial approach and to interact with their audience.
THE PRODUCT Whether it's the last hour you were allowed to play outside as a child before you had to go home, a reference to the fight against time in regard to the climate crisis or the last minutes of a person's life - "An Hour Before It's Dark" certainly doesn't lack interpretations.
Recorded in Peter Gabriel's Real World Studios, Marillion remain musically true to themselves and continue swimming against the path of adjusting to norms and limitations.
An Hour Before It's Dark (Limited Orange Vinyl 2xLP)
1

 Be Hard on Yourself (I) the Tear in the Big Picture

2

 Be Hard on Yourself (II) Lust for Luxury

3

 Be Hard on Yourself (III) You Can Learn

4

 Reprogram the Gene (I) Invincible

5

 Reprogram the Gene (II) Trouble-Free Life

6

 Reprogram the Gene (III) a Cure for Us?

7

 Only a Kiss

8

 Murder Machines

9

 The Crow and the Nightingale

10

 Sierra Leone (I) Chance in a Million

11

 Sierra Leone (II) the White Sand

12

 Sierra Leone (III) the Diamond

13

 Sierra Leone (IV) the Blue Warm Air

14

 Sierra Leone (V) More Than Treasure

15

 Care (I) Maintenance Drugs

16

 Care (II) An Hour Before It's Dark

17

 Care (III) Every Cell

18

 Care (IV) Angels on Earth