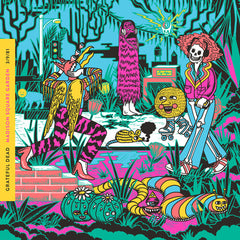 The Grateful Dead: Madison Square Garden, New York, NY 3/9/81 (Live 3 CD) 2022 Release Date: 9/23/2022
Three CDs. Madison Square Garden, the world-famous New York City arena, was a home away from home for The Grateful Dead, a reliable sanctuary where the band would ultimately play 52 shows, a record at the time.
The venue's fine acoustics combined with the fans' unbridled energy consistently brought out the best in the Dead. At the band's 2015 induction ceremony into Madison Square Garden's Walk Of Fame, Bobby Weir said "This place was both horrifying and titillating with an audience that was discerning but ravenous. We had to rise to the occasion every time."  
- Disc 1 -

1

 Feel Like a Stranger (Live at Madison Square Garden, New York, NY 3/9/81)

2

 Althea (Live at Madison Square Garden, New York, NY 3/9/81)

3

 C.C. Rider (Live at Madison Square Garden, New York, NY 3/9/81)

4

 Ramble on Rose (Live at Madison Square Garden, New York, NY 3/9/81)

5

 El Paso (Live at Madison Square Garden, New York, NY 3/9/81)

6

 Deep Elem Blues (Live at Madison Square Garden, New York, NY 3/9/81)

7

 Beat It on Down the Line (Live at Madison Square Garden, New York, NY 3/9/81)

8

 Bird Song (Live at Madison Square Garden, New York, NY 3/9/81)

9

 New Minglewood Blues (Live at Madison Square Garden, New York, NY 3/9/81)

- Disc 2 -

1

 China Cat Sunflower (Live at Madison Square Garden, New York, NY 3/9/81)

2

 I Know You Rider (Live at Madison Square Garden, New York, NY 3/9/81)

3

 Samson and Delilah (Live at Madison Square Garden, New York, NY 3/9/81)

4

 Ship of Fools (Live at Madison Square Garden, New York, NY 3/9/81)

- Disc 3 -

1

 Estimated Prophet (Live at Madison Square Garden, New York, NY 3/9/81)

2

 Uncle John's Band (Live at Madison Square Garden, New York, NY 3/9/81)

3

 Drums (Live at Madison Square Garden, New York, NY 3/9/81)

4

 Space (Live at Madison Square Garden, New York, NY 3/9/81)

5

 The Other One (Live at Madison Square Garden, New York, NY 3/9/81)

6

 Stella Blue (Live at Madison Square Garden, New York, NY 3/9/81)

7

 Good Lovin' (Live at Madison Square Garden, New York, NY 3/9/81)

8

 U.S. Blues (Live at Madison Square Garden, New York, NY 3/9/81)
LABEL: Grateful Dead / WEA

UPC: 603497840274

GENRE: Rock

RELEASE DATE: 9/23/2022

PRODUCT ID: GRDW840274.2

WEIGHT: .31 lb