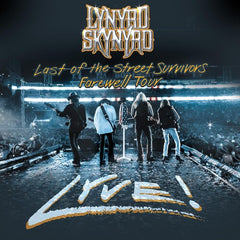 Lynyrd Skynyrd: Last Of The Street Survivors Tour Live! Jacksonville 2018 Deluxe Edition (CD/DVD) 2020 Release Date 2/14/20 Also avail in DVD
Deluxe two CD + DVD edition. Lynyrd Skynyrd: Last of the Street Survivors Farewell Tour Lyve! Was recorded at the band's hometown performance in Jacksonville, Florida, on September 2nd, 2018 during the venerable Southern rock groups' farewell tour.
The DVD - directed by multi-award-winning director Shaun Silva and Tacklebox Films - not only features the 2018 Jacksonville show but also includes an intimate interview with the band about their experiences on tour and what performing together has meant to them.
LABEL: Skynyrd Partners

NUMBER OF DISCS: 3

UPC: 860001282870

GENRE: Rock

RELEASE DATE: 2/14/2020

PRODUCT ID: SKYY82870.2

WEIGHT: .72 lb