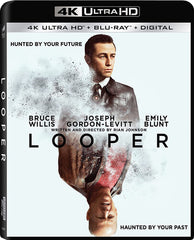 Looper: (4K Ultra HD+Blu-ray+Digital) 2012 Release Date: 2/15/2022
Although time travel has been outlawed in the year 2074, criminal organizations still use it to dispose of their enemies, sending them back 30 years where they're eliminated by contract killers called loopers. 
In 2044, a looper named Joe Simmons (Joseph Gordon-Levitt) realizes that his latest target is his older self (Bruce Willis) who means to carry out a hit of his own. Mindbending sci-fi actioner also stars Emily Blunt, Paul Dano, Piper Perabo, Jeff Daniels. 119 min. Widescreen; Soundtrack: English. Two-disc set.
Starring: Joseph Gordon-Levitt, Bruce Willis, Emily Blunt, Paul Dano, Noah Segan, Piper Perabo, Jeff Daniels, Pierce Gagnon, Qing Xu, Tracie Thoms

UPC: 043396570665

Director: Rian Johnson

Rated: R

Genre: Horror

Release Date: 2/15/2022

Product ID: CTR57066UHD

Subtitles: ENG, SPA

Dubbed: SPA

Original Language: ENG

Original Year: 2012

Run Time: 119 minutes

Distributor/Studio: Sony Pictures

Weight: .21 lb