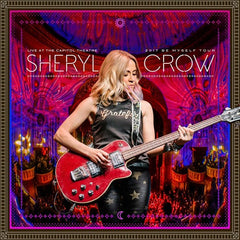 Sheryl Crow: Be Myself Tour Live At The Capitol Theatre (2CD/DVD) 3 Disc Box Set 2017 Release Date 11/9/18
Since exploding onto the global stage in 1993 with the multi-platinum Tuesday Night Music Club album, the one-time music teacher and studio vocalist from Kennett, Missouri has forged a career to become the finest female singer/songwriter of her generation.
On November 10, 2017, at the historic Capitol Theatre in Port Chester New York, Sheryl Crow played the final night of her Be Myself tour. The show features Sheryl with her all new band in top form, performing new songs from her 8th studio album. Featuring the Title Track "Be Myself" along with her newest hits "Halfway There" and "Atom Bomb ", and featuring her classic hits including "Comon' Comon" All I Wanna Do", "Leaving Las Vegas ", "First Cut Is The Deepest", Soak Up The Sun", "If It Makes You Happy" and many more hits. This Film also features a vintage Black and White flashback introduction of many Legends who have graced the Capitol Theatre stage over the years, interspersed with exclusive interview segments with Sheryl recently filmed at her Farm in Nashville.
- Disc 1 -

1

 Everday Is a Winding Road

2

 A Change Would Do You Good

3

 All I Wanna Do

4

 My Favorite Mistake

5

 Run Baby Run

6

 The First Cut Is the Deepest

7

 Halfway There

- Disc 2 -

1

 Leaving Las Vegas

2

 Strong Enough

3

 Best of Times

4

 If It Makes You Happy

5

 Soak Up the Sun

6

 I Shall Believe
UPC: 889466095795

GENRE: Rock

RELEASE DATE: 11/9/2018

PRODUCT ID: CPAT957DVD

DISTRIBUTOR/STUDIO: Cleopatra

WEIGHT: .19 lb