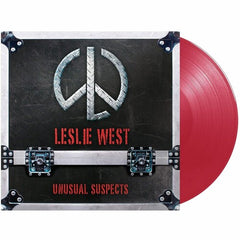 Leslie West: Unusual Suspects (Colored Vinyl, Red, Limited Edition 140 Gram Vinyl, Reissue) LP 2022 Release Date: 3/11/2022
Sadly Leslie West passed away in December 2020. To honor his musical legacy all the Provogue catalogue will be re-issued on special colored vinyl in limited numbers.
Nobody sounds like rock 'n' roll legend Leslie West. Absolutely nobody. West has been in command of one of the biggest, boldest electric guitar tones known to man or beast from 1969's Woodstock festival, which introduced his group Mountain to the pages of music history, through his riveting new album The Unusual Suspects. And his voice is even more recognizable - a powerful mix of honey and gravel that falls somewhere between Otis Redding and King Kong. At age 65, West stands entirely undiminished on The Unusual Suspects, a proud mix of boogies blues, rockers and ballads that puts his song writing skills at the fore in tunes like the hard rocking "Mississippi Queen" flashback "Mud Flap Momma" and the sweet, soulful love song "My Gravity." West's title for the album was inspired by his handpicked roster of A-list six-string co-stars, which includes Z.Z. Top's Billy Gibbons, Slash, ex-Ozzy Osbourne foil Zakk Wylde, blues-rock firebrand Joe Bonamassa and L.A. session giant and Toto leader Steve Lukather. The other distinguished guest is drummer Kenny Aronoff, whose powerhouse style has made him a first-call accomplice for John Fogerty, John Mellencamp, Willie Nelson, Rod Stewart and many others. Leslie West - Unusual Suspects is now available on vinyl again and for the first time on colored vinyl in transparent red. 
1

 One More Drink for the Road

2

 Mud Flap Momma

3

 To the Moon

4

 Standing on Higher Ground

5

 Third Degree

6

 Legend

7

 Nothing's Changed

8

 I Feel Fine

9

 Love You Forever

10

 My Gravity

11

 The Party Is Over

12

 I Don't Know (The Beetlejuice Song)