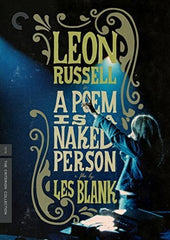 Leon Russell: A Poem Is a Naked Person (Criterion Collection) (DVD) 1974 Release Date: 3/29/2016
Les Blank (Burden of Dreams) considered this free-form feature documentary about beloved singer-songwriter Leon Russell, filmed between 1972 and 1974, to be one of his greatest accomplishments. Yet it has not been released until now. Hired by Russell to film him at his recording studio in northeast Oklahoma, Blank ended up constructing a unique, intimate portrait of a musician and his environment. 
Made up of mesmerizing scenes of Russell and his band performing, both in concert and in the studio, as well as off-the-cuff moments behind the scenes, this singular film-which also features performances by Willie Nelson and George Jones-has attained legendary status over the years. It's a work of rough beauty that serves as testament to Blank's cinematic daring and Russell's immense musical talents.
UPC: 715515170116

Director: Les Blank

Release Date: 3/29/2016

Product ID: CCIN2593DVD

Original Year: 1974

Distributor/Studio: Criterion Collection

Weight: .19 lb