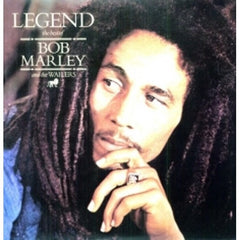 Bob Marley & The Wailers: Legend 1984 (180 Gram Vinyl Special Edition Reissue LP) 2009 Release Date: 7/7/2009
Island 50th Anniversary Special Edition. There are few musicians whose music has indisputably advanced humanity. Reggae figurehead Bob Marley--a songwriter, poet, activist, and visionary--is one of them.
The idea that a single-disc collection could represent the depth, breadth, and power of Marley's achievement is far-fetched, but LEGEND makes an excellent attempt. Every single one of its tracks is outstanding, and the artist's different faces--revolutionary ("Get Up Stand Up"), romantic ("Is This Love"), devout Rastafarian ("Buffalo Soldier"), and prophet ("One Love/People Get Ready") are equally represented.
In addition to his moving message of love and unity, Marley is a master songwriter, as the timelessness of songs like "Stir It Up," "I Shot the Sheriff," and the gorgeous, poignant "Redemption Song" proves. Of course, a true sampling of Marley's output would require some early ska material, the Wailer's debut (CATCH A FIRE), the definitive NATTY DREAD, and his later-period opus EXODUS, but LEGEND provides a highly satisfying, if brief, overview of Marley's genius. A record well suited to any location, season, or time of day, it has proven universal in its appeal. The music herein is as essential as air. (Note: The Deluxe Edition CD includes two bonus tracks and an additional disc of remixes
LABEL: Tuff Gong / Umgd

UPC: 600753030523

GENRE: Reggae

RELEASE DATE: 7/7/2009

PRODUCT ID: TFGG530305.1

WEIGHT: .61 lb