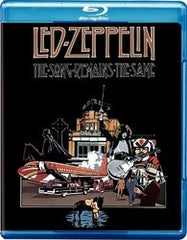 Led Zeppelin: The Song Remains The Same 1973 (Blu-ray) 2012 DTS HD Master Audio 5.1 Release Date: 2 October 2012
 The best of Led Zeppelin's legendary 1973 appearances at Madison Square Garden. Interspersed throughout the concert footage are behind-the-scenes moments with the band. 'The Song Remains the Same' is Led Zeppelin at Madison Square Garden in NYC concert footage colorfully enhanced by sequences which are supposed to reflect each band member's individual fantasies and hallucinations.   
 Includes blistering live renditions of "Black Dog," "Dazed and Confused," "Stairway to Heaven," "Whole Lotta Love," "The Song Remains the Same," and "Rain Song" among others. Some of the footage was shot at Shepperton Studios 1974.
 Details
| | |
| --- | --- |
| | Led Zeppelin |
| | Song Remains the Same |
| | Music Video & Concerts, Rock |
| | Rock - Heavy Metal, Musicvideo - Music Video (Concert / Performance) |
| | 2 October 2012 |
| | John Bonham, John Paul Jones, Jimmy Page |
| | Joe Massot |
| | PG |
| | Blu-ray Disc |
| | 37221 |
| | 883929010776 |
| | O: Blu-ray Disc |
Technical Information 
| | |
| --- | --- |
| | 2 October 2012 |
| | WARNER HOME VIDEO ( WHV ) |
| | 138 |
| | A: Americas, E Asia |
| | Danish, English, Finnish, French, German, Spanish |
| | Discs:1 ~ Format:Blu-Ray ~ Region:A |
| | John Bonham, John Paul Jones, Jimmy Page |
| | Blu-Ray/Ws Pg Led Zeppelin Clr Blu-Ray |