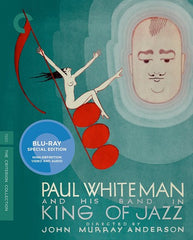 King of Jazz (Criterion Collection) (Blu-ray) Rated: NR 2018 Release Date 3/27/18
That's what they called popular '20s bandleader Paul Whiteman, and he and his orchestra take center stage in this long-demanded and lavish early Technicolor revue splicing together songs, skits, and animation from Walter Lantz. Score includes "Rhapsody in Blue," "It Happened in Monterey," "Song of the Dawn," "Happy Feet," more; with John Boles, Laura La Plante, Walter Brennan, and, in his screen debut, as one of Whiteman's Rhythm Boys, Bing Crosby.
Restored cut; 98 min. Standard; Soundtrack: English Dolby Digital mono; Subtitles: English (SDH); audio commentary; featurettes; deleted scenes; bonus shorts "All Americans" (1929), "My Pal Paul" (1930), "I Know Everybody and Everybody's Racket" (1933).