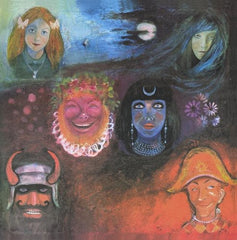 King Crimson: In the Wake of Poseidon (40th Anniversary Series) CD/DVD (Hi Res Audio Only Mix 96kHz/24bit) 2010 Release Date 11/22/10
The classic album has been mixed for 5.1 Surround Sound from the original studio masters by Steven Wilson and is fully approved by Crimson founder Robert Fripp.
The CD features a new stereo mix by Robert Fripp and Steven Wilson, 3 extra tracks, 2 previously unreleased, including a new mix of "Goon", alternative mix of "Peace: An End" and the first time availability on CD of the studio recording of "Cadence & Cascade" with Greg Lake's vocal. The DVD features a 5.1 DTS Mix and High Resolution Stereo mixes, 5.1 lossless audio mix and lossless Stereo mixes. The original, the new album mix and more!
LABEL: Discipline Us

UPC: 633367400222

GENRE: Rock

RELEASE DATE: 11/22/2010

PRODUCT ID: DPL674002.2

WEIGHT: .27 lb