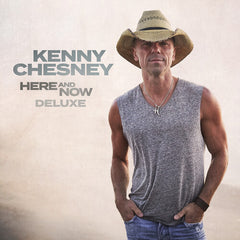 Kenny Chesney: Here And Now (CD) 2021 Release Date: 5/7/2021
2021 release. Deemed "The King of the Road" by The Wall Street Journal, Kenny Chesney is the only country artist in the Top 10 on Billboard's Top Touring Acts of the Last 25 Years - a staggering feat given he's only been headlining since 2002.
Known for his high energy shows, songs that celebrate life as real people live it and a strong sense of musicality, Chesney's won eight Entertainer of the Year Awards (four consecutive from the Academy of Country Music, four from the Country Music Association), had 30 No. 1s and sold in excess of 30 million albums, as well as more than a million tickets on each of his headlining tours.
1

 We Do

2

 Here and Now

3

 Everyone She Knows

4

 Wasted

5

 Knowing You

6

 Heartbreakers

7

 Someone to Fix

8

 Happy Does

9

 Tip of My Tongue

10

 You Don't Get to

11

 Beautiful World

12

 Guys Named Captain

13

 Wind on

14

 Fields of Glory

15

 My Anthem

16

 Streets

Label: Warner Nashville

UPC: 093624883500

Genre: Country

Release Date: 5/7/2021

Product ID: WNV654084.2

Weight: .19 lb