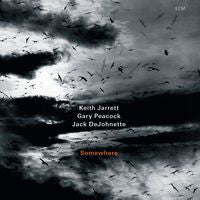 Keith Jarrett: Keith Jarrett Trio-Somewhere-Live In Lucerne, Switzerland 2009 CD 2013
Now in its 30th year, the Keith Jarrett Trio is widely considered, as the NY Times recently remarked, to have set the gold standard for Jazz groups, and this sparkling concert recording from 2009 is issued to mark a milestone anniversary. The Somewhere in which the Standards trio find themselves is Lucerne, Switzerland with a performance both exploratory and in-the-tradition. The Neue Zurcher Zeitung headlined its review of the show Kontrollierte Ekstase controlled ecstasy an apt metaphor for a set that begins in improvisational 'Deep Space' modulates into Miles Davis' 'Solar', soars through the standards 'Stars Fell On Alabama' and 'Between The Devil And The Deep Blue Sea' and climaxes with an extended romp through West Side Story, as Bernstein's 'Somewhere' and 'Tonight' are bridged by the freely associative Jarrett original Everywhere.
Track Listing
| | | | |
| --- | --- | --- | --- |
| |   | Track # | Title |
| | | 1 | Deep Space/Solar |
| | | 2 | Stars Fell on Alabama |
| | | 3 | Between the Devil and the Deep Blue Sea |
| | | 4 | Somewhere/Everywhere |
| | | 5 | Tonight |
| | | 6 | I Thought About You |
Product Reviews
It is almost superfluous to write about Keith Jarrett's three-decades-and-running standards trio with Gary Peacock and Jack DeJohnette. Given their recorded output, it's easy to discern why they are regarded by many as the greatest living piano trio. They have continued to imbue the standards book with new dimensions of meaning, creating a near symbiotic dialogue in harmonic and rhythmic invention while remaining emotionally resonant. The performances on Somewhere were recorded in 2009, and are the first offerings by the group on record in four years, though they continue to play select dates annually. Since their three previous releases were all taken from a 2001 tour, this show reflects an eight-year growth period. The opener is a Jarrett improvisation entitled "Deep Space," which is a building block solo intro to Miles Davis' "Solar," and which this group has recorded before -- several times in fact -- but never with the kind of lyric audacity and rumbling low-end counterpoint that Peacock puts on offer here.
There's a popping read of Harold Arlen's and Ted Koehler's "Between the Devil and the Deep Blue Sea," with Jarrett playing chunky, staggered chords that manage to slip 4/4 as he dialogues with DeJohnette. The pair go at the time signature from both ends, refusing its authority until not to do so would result in its collapse. Peacock binds their conversation while finding his own way in and out of an implied yet never directly engaged sense of swing. The two readings of Leonard Bernstein's title track and "Tonight" from West Side Story are the scene stealers, though. The former is a 19-plus-minute extravaganza that begins in halting, shimmering beauty and gets stripped to its essentials before being reconstructed and reshaped from building blocks into the driving, hypnotic improvisational ostinato coda Jarrett calls "Everywhere," with breathtaking chord voicings, forceful, middle-register bass flourishes, and awe-inspiring tom-tom and cymbal work by DeJohnette; the track's conclusion is drenched in royal gospel and regal blues. "Tonight" is performed at near sprint tempo and played with fingerpopping swing and joyous abandon. Jimmy Van Heusen's and Johnny Mercer's ballad "I Thought About You" closes the set on a quieter note, because there was simply nowhere else to go with so much electricity in the air. It's a soft, graceful, elegant way to finish another sublime chapter in this group's recorded legacy. ~ Thom Jurek, Rovi
Details
| | |
| --- | --- |
| | Keith Jarrett |
| | Somewhere |
| | Jazz |
| | 28 May 2013 |
| | Unknown |
| | ~ Discs:1 |
| | Umgd/Ecm ( UECM ) |
| | Compact Disc |
| | |
| | 602527663708 |
| | D: CD |