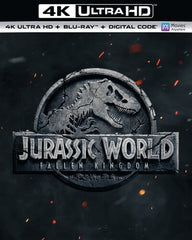 Jurassic World 2015 (4K Ultra HD+Blu-ray+Digital Code) 4K Ultra HD Rated: PG13 2022 Release Date: 5/10/2022
After the well-documented developmental disasters, John Hammond's dream of a cloned dinosaur-populated theme park finally became a reality. As the novelty faded, though, management sought to offset slipping attendance with the creation of a genetically-engineered "Indominus Rex"... leaving a raptor wrangler (Chris Pratt) and operations manager (Bryce Dallas Howard) trying to escape with their lives after the inevitable happens. 
Vincent D'Onofrio, Ty Simpkins, Nick Robinson co-star. 124 min. Widescreen; Soundtrack: English. Two-disc set.