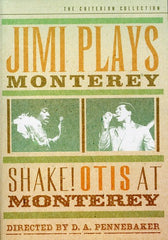 Jimi Plays Monterey / Shake! Otis at Monterey 1967 (Criterion Collection) DVD 2006 Release Date: 6/13/2006
Jimi Hendrix and Otis Redding arrived in California virtually unknown. Returning stateside from London, where he had moved to launch his musical career, Hendrix exploded at Monterey, flooring an unsuspecting audience with his maniacal six-string pyrotechnics.
Redding, venerable star of Memphis' Stax record label, seduced the "love crowd" in one of his best, and last, performances. Jimi Plays Monterey and Shake! Otis at Monterey feature the entire Monterey sets of these legendary musicians, performances that have entered rock and roll mythology.
One of the most startling, exciting live performances in rock history is presented here in all its glory. The Jimi Hendrix Experience were already making a name for themselves in England but were little known in the States when they appeared at Monterey in June 1967; that all changed after this gig, which saw Hendrix and his trio play an electrifying mix of originals ("Purple Haze," "Foxy Lady," "The Wind Cries Mary") and covers ("Hey Joe," "Like a Rolling Stone," and the climactic "Wild Thing," in which the guitarist set his instrument on fire). Also included on this DVD is Shake! Otis at Monterey Otis Redding's stunning performance at the famous festival.