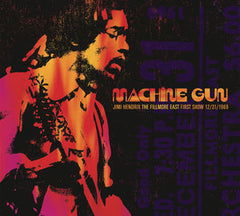 Jimi Hendrix: Machine Gun Live At Fillmore East New Years Eve 1969 CD 2016 09-30-16
2016 live archive release from the legendary rock guitarist. This debut concert by Hendrix and his Band of Gypsys is released in it's entirety for first time ever. 
This set was captured live at the Fillmore East in New York and features Jimi joined by Billy Cox on bass and Buddy Miles on drums. These 11 songs were recorded New Year's Eve 1969, the night before the original Band of Gypsys live album was recorded - eight of the tracks are previously unreleased while the three previously released tracks have been newly mixed by Eddie Kramer. As the '60s came to a close, Jimi Hendrix pushed the boundaries of funk, rock and R&B with a brand new group, Band of Gypsys. Together with Cox and Miles, Hendrix unveiled stunning, newly written material across four shows at the legendary Fillmore East in New York City.
1

 Power of Soul (All Tracks Live at the Fillmore East) 5:30

2

 Lover Man 3:14

3

 Hear My Train a Comin' 9:06

4

 Changes 5:58

5

 Izabella 3:29

6

 Machine Gun 8:54

7

 Stop 5:30

8

 Ezy Ryder 5:55

9

 Bleeding Heart 6:38

10

 Earth Blues 6:24

11

 Burning Desire 9:40
Label: Sony Legacy

Release Date: 9/30/2016

Genre: Rock

UPC: 889853541621

Product ID: SNYL535416.2

Weight: .19 l

b