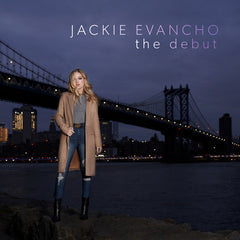 Jackie Evancho: The Debut Contemporary Theater Songs CD 2019 Release Date 4/12/19
Jackie Evancho's newest release "The Debut" is an album of contemporary theater songs from Hamilton, Dear Evan Hansen, Waitress, Greatest Showman, Wicked, Rent and West Side Story. As an 18-year-old, Jackie wants to embrace what she considers the new American songbook. Jackie is the first recording artist to embrace this new and very popular emerging genre.
A worldwide sensation when she was only ten years old, Jackie Evancho has moved past the exuberant promise of a child prodigy vocalist, becoming a mature young adult with a clear direction as to where she, as a creative artist, is taking her career as a singer. A career that began with a little girl's fascination with the film soundtrack of The Phantom of the Opera and has become an evolving and enduring musical phenomenon.
1

 Burn (From Hamilton)

2

 A Million Dreams (From the Greatest Showman)

3

 Falling Slowly (From Once)

4

 Somewhere (From West Side Story)

5

 Requiem (From Dear Evan Hansen)

6

 Once Upon a December (From Anastasia)

7

 I'm Not That Girl (From Wicked)

8

 She Used to Be Mine (From Waitress)

9

 Whispering (From Spring Awakening)

10

 Another Day (No Day But Today) (From Rent)