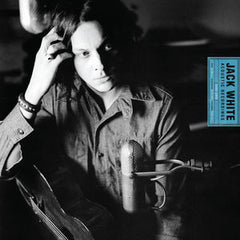 Jack White: Acoustic Recordings 1998-2016 White's Acoustic-Recordings -White Stripes, The Raconteurs 2 CD Deluxe Edition 2016 09-09-16 Release Date
Two CD set. Jack White Acoustic Recordings 1998-2016 is the definitive Jack White songwriting collection, spanning his 20+ year career. It includes White's acoustic-based recordings with the White Stripes, the Raconteurs, and his acclaimed solo projects.
The music included here is all-encompassing, highlighting White's versatility, and the songs are presented with unique character in chronological order. As noted American author and music journalist, Greil Marcus, conveys in the albums liner notes: "The lack of electric guitar opens songs up to their own contrivance, and cuts out pretentions of seriousness and grandiosity in favor of the quiet, the ridiculous, the sly." The completely remastered collection includes album tracks, B-Sides, remixes, alternate versions, and previously unreleased studio recordings and is a must for any fan of the genius that is Jack White.
Disc 1 -

1

 Sugar Never Tasted So Good 2:55

2

 Apple Blossom (Remixed) 2:13

3

 I'm Bound to Pack It Up (Remixed) 3:08

4

 Hotel Yorba 2:10

5

 We're Going to Be Friends 2:21

6

 You've Got Her in Your Pocket 3:39

7

 Well It's True That We Love One Another 2:39

8

 Never Far Away 3:38

9

 Forever for Her (Is Over for Me) 3:16

10

 White Moon 4:01

11

 As Ugly As I Seem 4:10

12

 City Lights (Previously Unreleased) 4:50

13

 Honey, We Can't Afford to Look This Cheap 3:55

14

 Effect and Cause 3:00

- Disc 2 -

1

 Love Is the Truth (Acoustic Mix) 1:37

2

 Top Yourself (Bluegrass Version) Raconteurs, the 4:36

3

 Carolina Drama (Acoustic Mix) Raconteurs, the 5:52

4

 Love Interruption 2:37

5

 On and on and on 3:55

6

 Machine Gun Silhouette (Acoustic Mix) 3:00

7

 Blunderbuss 3:06

8

 Hip (Eponymous) Poor Boy (Alternate Mix) 3:02

9

 I Guess I Should Go to Sleep (Alternate Mix) 2:36

10

 Just One Drink (Acoustic Mix) 2:32

11

 Entitlement 4:07

12

 Want and Able 2:35
Label: Sony

Release Date: 9/9/2016

Genre: Rock

UPC: 889853654420

Product ID: SNY536544.2

Weight: .29 lb