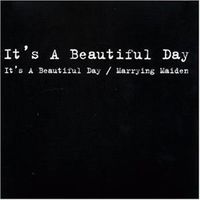 It's A Beautiful Day: It's A Beautiful Day and Marrying Maiden CD 1969-1970 2 Albums 2004

Import only two CD set includes their self-titled album along with their sophomore album, Marrying Maiden. Sony. 2004.

 
It's a Beautiful Day is an American band formed in San Francisco, California, in 1967, featuring vocalist Pattie Santos along with violinist David LaFlamme and his wife, Linda LaFlamme, on keyboards. 
David LaFlamme, a former soloist with the Utah Symphony Orchestra, had previously been in the band Orkustra, and unusually, played a five-string violin. The other members were Linda LaFlamme (keyboards), Pattie Santos (vocals), Hal Wagenet (guitar), Mitchell Holman (bass) and Val Fuentes (drums). Although they were one of the earliest and most important San Francisco bands to emerge from 1967's social phenomenon Summer of Love, the band never quite achieved the success of contemporaries such as The Grateful Dead, Jefferson Airplane and Santana, with whom they had connections. The band created a unique blend of rock, jazz, folk, classical and world beat styles during the initial seven years it was officially together.
This Sony mid-price two-disc set features a pair of LPs by It's a Beautiful Day: It's a Beautiful Day and Marrying Maiden, originally issued on Columbia and San Francisco Sound in 1969 and 1970. Highlights among the 17 tracks include cover versions of "Time Is," "The Dolphins," "Good Lovin'," and the underground FM hit "White Bird." ~ Al Campbell, Rovi 
Track Listing
| | | | |
| --- | --- | --- | --- |
|   |   | Track # | Title |
| 1. |   | 1 | White Bird |
| 1. |   | 2 | A Hot Summer Day |
| 1. |   | 3 | Wasted Union Blues |
| 1. |   | 4 | Girl with No Eyes |
| 1. |   | 5 | Bombay Calling |
| 1. |   | 6 | Bulgaria |
| 1. |   | 7 | Time Is |
| 2. |   | 1 | Don and Dewey |
| 2. |   | 2 | The Dolphins |
| 2. |   | 3 | Essence of Now |
| 2. |   | 4 | Hoedown |
| 2. |   | 5 | Soapstone Mountain |
| 2. |   | 6 | Waiting for the Song |
| 2. |   | 7 | Let a Woman Flow |
| 2. |   | 8 | It Comes Right Down to You |
| 2. |   | 9 | Good Loovin' |
| 2. |   | 10 | Galileo |
| 2. |   | 11 | Do You Remember the Sun |