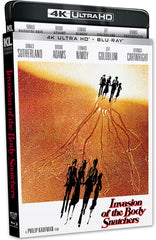 Invasion of the Body Snatchers: (2 Pack) (4K Ultra HD+Blu-ray) 1978 Rated: PG 2021 Release Date: 11/23/2021
Director Philip Kaufman's great reworking of the 1956 sci-fi classic takes the action to San Francisco, as an onslaught of outer space pods turns people into strange, zombie-like creatures.
Donald Sutherland, Brooke Adams, Leonard Nimoy, Jeff Goldblum, and Veronica Cartwright portray a group of friends who catch on to the bizarre phenomenon and must find a way to stop it. Features cameo appearances by the original film's star Kevin McCarthy and director Don Siegel. 115 min. Widescreen; Soundtracks: English DTS 5.1, DTS Lossless stereo; Subtitles: English; audio commentary by Kaufman; interviews; featurettes; TV spots; radio spots; theatrical trailer. Two-disc set.