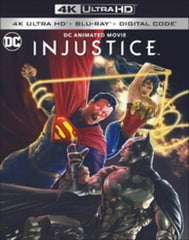 Injustice (4K Ultra HD+Blu-ray+Digital Copy) Animated 2021 Release Date: 10/19/2021
In a parallel universe, Superman (voiced by Justin Hartley) is duped by the Joker (Kevin Pollak) into triggering a mass tragedy-and then vows to end criminality by forming a global totalitarian regime under his control. It falls to Batman (Anson Mount) to rally a dissenting faction of the Justice League (and their interdimensional counterparts) to fight back.  
Animated feature based on the 2013 videogame also features the voices of Gillian Jacobs, Anika Noni Rose, Oliver Hudson. 78 min. Widescreen; Soundtrack: English. Two-disc set.
UPC: 883929736782

Rated: R

Genre: Action / Adventure, Animation

Release Date: 10/19/2021

Product ID: WHV1000797560UHD

Original Language: ENG

Original Year: 2021

Run Time: 78 minutes

Distributor/Studio: Warner Home Video

Number of Discs: 2

Weight: .21 lb