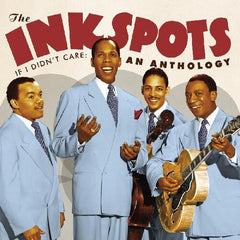 The Ink Spots: If I Didn't Care An Anthology 2: CD 2022 Release Date: 4/22/2022
INK SPOTS / IF I DIDN't CARE: AN ANTHOLOGY - 2 CDs / 40 Songs / 10 Previously Unreleased. With a high-flying tenor floating above their tight harmonies, the Ink Spots were the predecessors of doo-wop.
They became so popular that all-white venues integrated to get them in their lineup, a rare occurrence in the Forties. Countless vocal groups modeled themselves after the Ink Spots. The Ink Spots were frequent chart toppers totaling over 50 hits in their 17 year recording career. Their best selling record "If I Didn't Care" sold over 19 million copies and is currently the 7th best selling single of all time. Disc One focuses on post-1950 with a recasting of their hits by original lead vocalists Bill Kenny and Charlie Fuqua. Disc 2 features the original group performing hits and rarities between 1938 and 1944. $1.00 from each album sold will be donated to the National Urban League.
- Disc 1 -

1

 I Don't Want to Set the World on Fire

2

 Maybe If I Didn't Care

3

 We Three (My Echo, My Shadow & Me)

4

 Address Unknown (Better Call Saul Mix)

5

 Java Jive (Chase & Sanborn Mix)

6

 When the Swallows Come Back to Capistrano

7

 Always

8

 To Each His Own

9

 It's a Sin to Tell a Lie

10

 Whispering Grass (Don't Tell the Trees)

11

 I Love You Truly

12

 The Gypsy

13

 Into Each Life Some Rain Must Fall

14

 You Always Hurt the One You Love

15

 With My Eyes Wide Open I'm Dreaming

16

 I'm Making Believe

17

 I'll Get By

18

 It's a Sin to Tell a Lie My Prayer

- Disc 2 -

1

 No Wonder

2

 A Stairway to the Stars

3

 Pork Chops and Gravy

4

 It's Funny to Everyone But Me

5

 I'm Feeling Like a Million

6

 Shoo Shoo

7

 Baby Shout, Brown Shout

8

 Spring Is Here

9

 Flat Foot Floogie

10

 Your Feet Too Big

11

 Don't Believe Everything You Dream

12

 Maybe I've a Bone to Pick with You

13

 If I Didn't Care

14

 Someday We'll Meet Again

15

 So Little Time

16

 A Tisket-A-Tasket

17

 Do Nothing 'Till You Hear from Me

18

 Do I Worry

19

 Alabamy Bound