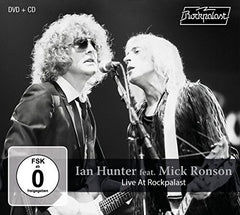 Ian Hunter & Mick Ronson Live At Rockpalast 1980 (CD/DVD) 2018 Release Date 1/19/18
These two names are still much valued by those, who love and celebrate good Rock'n'Roll: Ian Hunter, leader and singer of Mott The Hoople & Mick Ronson, longtime companion and guitarist of David Bowie's Spiders From Mars.
The 6th Rockpalast night at 19th to 20th of April 1980 was a really outstanding event in the long history of the high acclaimed Rockpalast-festival-series. The charismatic performance of Ian Hunter and his longtime companion Mick Ronson climaxed in breathtaking versions of Once Bitten Twice Shy, The Mott The Hoople classic All The Young Dudes, written by David Bowie for Ian Hunter or Slaughter On 10th Avenue. This gem presents another exorbitant TV broadcasted highlight of the German station WDR.
- Disc 1 -

1

 Fbi

2

 Once Bitten Twice Shy

3

 Angeline

4

 Laugh at Me

5

 Irene Wilde

6

 I Wish I Was Your Mother

7

 Just Another Night

8

 We Gotta Get Out of Here

9

 Bastard

10

 All the Way from Memphis

11

 Cleveland Rocks

12

 All the Young Dudes

13

 Slaughter on 10th Avenue

- Disc 2 -

1

 FBI

2

 Once Bitten Twice Shy

3

 Angeline

4

 Laugh at Me

5

 Irene Wilde

6

 I Wish I Was Your Mother

7

 Just Another Night

8

 We Gotta Get Out of Here

9

 Bastard

10

 All the Way from Memphis

11

 Cleveland Rocks

12

 All the Young Dudes

13

 Slaughter on 10th Avenue