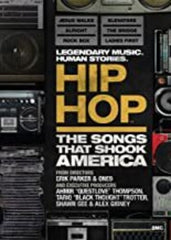 Hip Hop: The Songs That Shook America (DVD) 2019 Release Date: 9/29/2020
John Legend, Pharrell Williams, Queen Latifah, Questlove. Each episode of this documentary series focuses on one song that defined hip hop, using interviews with prominent artists to discuss their influence on the genre and socio-economic impact on culture.
6 episodes on 2 DVDs. 2019/color/4 hrs, 30 min/TV-14/widescreen.
Starring: Queen Latifah

UPC: 014381131079

Rated: TV14

Release Date: 9/29/2020

Product ID: IMGG13107DVD

Distributor/Studio: Image Entertainment

Number of Discs: 2

Weight: .25 lb