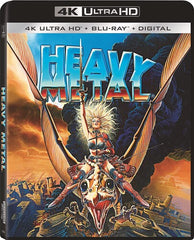 Heavy Metal 1981 (4K Ultra HD+Blu-ray+Digital) Widescreen, Dubbed, Subtitled) Rated: R 2022 Release Date: 8/16/2022
Based on the sexy science fiction cult comic this combines awesome stunning visuals, and new wave music with a series of stories. The anchor of the film is an eerie green ball that magically transports US into the past & future. To some, it appears as a green jewel treasure, they must own. 
Others worship it as a God. Few escape it, even in death and through death, it's powers continue from world to world. It, alone knows and can find it's true adversary. (1981) 90 minutes.

UPC: 043396583849
DIRECTOR: Gerald Potterton
RATED: R
GENRE: Science Fiction, Animation
RELEASE DATE: 8/16/2022
PRODUCT ID: CTR58384UHD
SUBTITLES: ARB, CHN, CZE, DAN, DUT, ENG, FIN, FRE
CLOSED CAPTION: Yes
DUBBED: FRE, GER, ITA, KOR, SPA, TUR
ORIGINAL LANGUAGE: ENG
ORIGINAL YEAR: 1981
RUN TIME: 180 minutes
DISTRIBUTOR/STUDIO: Sony Pictures
NUMBER OF DISCS: 2
WEIGHT: .44 lb